BLOCK STORAGE WITH SPECTRUM FILE SYSTEM
AND BIXEN PROTOCOL™ POWERED STORAGE ARCHITECTURE
BIXEN PROTOCOL™ IS BUILDING A NEW FOUNDATION FOR DATA STORAGE TO UNLOCK PREVIOUSLY UNHARNESSED TECHNOLOGY AND EASILY SOLVE PROBLEMS IN WAYS THAT HAD PREVIOUSLY BEEN OVERLOOKED OR IMPOSSIBLE.
WHY BIXEN PROTOCOL FOR SPECTRUM FILE SYSTEM
Spectrum file system, formerly known as GPFS, is a flexible, diverse storage platform for modern AI and big data applications. While the Spectrum File system platform can be deployed in multiple cloud and on-premises configurations, the shared storage deployment with BIXEN PROTOCOL™ storage solution delivers Spectrum File system users an extremely performant, resilient, and efficient datacenter solution with agility and consistency needed for modern data pipelines. With the BIXEN PROTOCOL system's GPU-accelerated erasure coding for block, Spectrum File system deployments achieve high capacity utilization and simplify network shared disk (NSD) configurations by relying on the BIXEN PROTOCOL solution's erasure coding and intelligent data placement.
Spectrum file system was deployed as follows:
Ten dedicated blade servers, all configured as NSD Nodes with single 100Gb InfiniBand iSER connections
RedHat Enterprise LINUX 8.4 with Mellanox OFED 5.4 drivers
500TB Bixen Capacity for data (5 volumes for each NSD node)
5TB NVMe SSD capacity for distributed metadata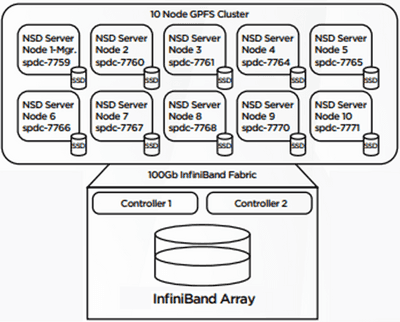 BIXEN PROTOCOL™
TEST PURPOSE
Bixen deployed the Spectrum file system platform with the BIXEN PROTOCOL solution and ran a series of four-corners tests to demonstrate how the BIXEN PROTOCOL solution's combined GPU+CPU architecture can deliver consistently high bandwidth for GPFS users. This exercise not only details how to deploy Spectrum File system with BIXEN PROTOCOL products, but it also illustrates what is achievable. Since modern data workflows have a wide range of file sizes and data access patterns, it is critical to accommodate these different workloads without requiring storage reconfiguration
TEST SETUP
While Spectrum File system's architecture can be deployed in multiple configurations, this test was designed around a traditional shared storage, physical node architecture typically found in HPC data centers.
TEST RESULTS
Using a series of ElBencho test scripts running across all 10 NSD servers with varying block sizes and IO patterns, GPFS with the BIXEN PROTOCOL product delivered exceptional performance with no tuning tricks. Additionally, the tests did not demonstrate the sawtooth trendline that is typical with caching arrays. Instead, the read and write bandwidth was consistent throughout.
LEARN MORE
Bixen can provide test results for specific test parameters along with implementation best practices for integrating BIXEN PROTOCOL storage into new or existing GPFS deployments.

The BIXEN PROTOCOL system's simple management and large file System also permit workloads other than Spectrum File System to reside on the same array. This means organizations can have over 3PB of usable capacity servicing file, object, and block on the same system with performance and capacity to spare.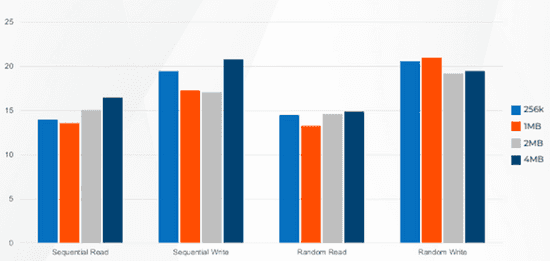 Spectrum file system Bandwidth in GB/s For various ElBencho Test Parameters